When we found out that the little girl we were expecting had Down syndrome, we were pretty sad, overwhelmed and anxious. However, during the months that followed we learned a lot.
For us it helped a lot to talk to other families who had a child with Down syndrome and see that most of them were just like any other family. We loved to see their love for their children and see that they were happy.
Our faith that God doesn't give us more than we can handle was a comfort. We had support from family and friends and found some helpful information.
And, after she was born, just having this precious little girl, was the biggest 'comfort'. We're so happy to have her in our lives and cannot imagine life without her!
There are so many things I wish I would have known right when we received that diagnosis.
I wrote the following post:
"If you just found out your baby has down syndrome"
for women who just learned that their child, born or unborn, has Down syndrome. It has information I wish I would have known right when we found out, since it would have been so comforting for me to know these things. So hopefully this can be a help for other people, too.
Hoping to help people who want to learn more about Down syndrome, I compiled a list of sites that were helpful to me.
Information about Down syndrome
National Down Syndrome Society
This site offers a lot of useful, up to date information about Down syndrome and education, development, health care, etc. for individuals with Down syndrome. This site is a great starting point for anybody looking for information about Down syndrome.
Down syndrome pregnancy
If you have received a confirmed or suspected diagnosis that the baby you are expecting has Down syndrome, this place offers information that can help you deal with it. They offer a free downloadable Down syndrome pregnancy book, they have a blog and offer other resources.
Forums about Down syndrome
Down syndrome Forum at babycenter.com
A place to share triumphs, challenges, ask questions, share advice, experiences and information with each other.
The ups of Down syndrome Forum at babycenter.com
A place to focus on the positives of raising a child with Down syndrome!
Down syndrome pregnancy Forum at babycenter.com
Talk with other moms pregnant with children with Down syndrome here for advice, suggestions, and support!
My favorite Down syndrome blogs
Down syndrome: Up, Up, Up and Away
A perfect Lily
One day at a time
Confessions of the chromosomally enhanced
Noah's dad
Down Wit Dat
My own posts about Down syndrome
Click this link to read my blog posts about Down syndrome
October is Down syndrome awareness month!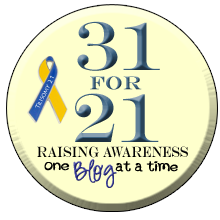 Grab This Button
I took on the challenge to blog every day of October 2011 and 2012 to raise awareness for Down syndrome.