Those of you who have been reading here for longer than a year, may remember that last year I took part in the "31 for 21" challenge:
Blogging every day of the month to raise awareness for Down syndrome.
31 days for Trisomy 21
Blogging every day is time consuming, but I decided to do it anyway.
I could go on and on and on...
And, she happens to have an extra copy of the 21st chromosome,
I hope you'll follow along while I blog every day of the month to raise awareness for Down syndrome! You could also make others aware by posting this button on your blog, or even take part in the challenge. (You don't have to blog about Down syndrome every day, only mention daily that you do it to raise awareness...)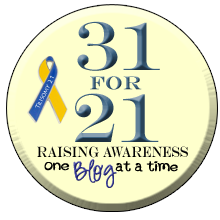 Grab This Button